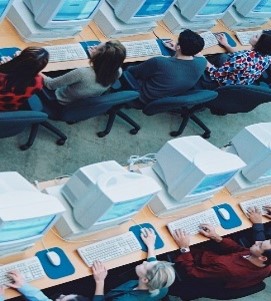 Our training sessions
Our training sessions are specifically designed for automation and control system technicians, engineers and managers that want to understand, learn, and practice the principles of networking applied to their specific needs. We have designed our courses to address the challenges faced by industrial automation and control systems engineers that are now required to have knowledge and hands on experience in Networking and Telecommunications for their every day work. We assure you that the knowledge acquired thru our courses will not only help you at work, but also everywhere else; the concepts of Smart Grid and the Internet of Everything are changing everybody's daily life!
All training courses will be customized based on customer's hardware and specific requests to make sure the content is pertinent to their everyday work. In order to cover all main topics, we recommend training sessions of 5 days, 8 hours each. However, the duration of the training sessions can also be customized to meet customer's needs and availability.
All Training courses are designed to be 75% practical with a lab for every topic covered. No previous experience is required and the student will be given incremental knowledge with enough time to mature the concepts. At the end of the week we guarantee all participants will know the fundamental concepts behind Industrial Ethernet Networks, and will be able to configure and troubleshoot complete switched, routed and wireless networks. Our training facilities are located in South Florida (Miami / Ft. Lauderdale), but our training sessions can also be held on customer's training facilities.
Current training Courses:
– Industrial Ethernet Networks:  Switches
– Industrial Ethernet Networks: Routers
– Industrial Wireless: WiFi – WiMax
For more Information please visit our Contact Us page.